Books
To Get the FREE Monthly Just Raku Newsletter
Just enter your name and main email address below and click join
Privacy Policy - Your email address or other personal information will only be used for this newsletter. It will never be given, rented, or sold to any other party for any other purposed.

If you appreciate fine art, pottery, and ceramics, then you have come to the right place.
I hope to satisfy both the Raku art lover with my online gallery as well as the Raku potter with a huge collection of free Raku glaze formulas and recipes including details on various Raku firing techniques.
I specialize in wheel thrown and hand built objects including vases, urns, "rocks", candle holders, platters, and wall art. I am constantly experimenting with different shapes, forms, textures, and patterns. All work is glazed and fired by me in a gas Raku kiln that I built. I sign each unique work of art.
Please browse the site and donít let the smoke get in your eyes! Feel free to contact me if you have any question, comments, or wish to inquire about the availability of any of the artwork.
Gary R. Ferguson
Raku Clay Artist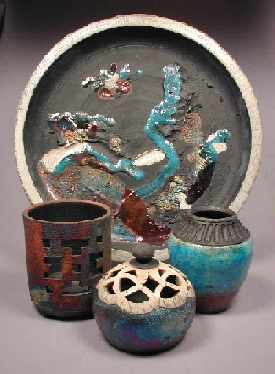 Where you can find almost any Raku book available!