"Thank you for sharing such a comprehensive Raku glaze recipe [collection]. I found some recipes that I had used over twenty years ago and thought that I'd never see them again. I can't wait to try them out!." - Jeri P-M.
"I have just begun exploring the fun of mixing my own glazes. I had my first test firing on Monday and was VERY pleased with most of my test glazes. All of these, by the way, I got from your wonderful [collection]! Thanks!" - Allyson M.
There are many Raku glazes recipes floating around in books, hand-outs, notebooks, websites, and magazines but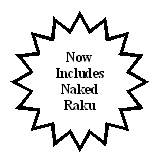 rarely are they all in one location or in a consistent format.
You may have hundreds of pages cut, clipped, or printed from the web stored in a binder but do you have any hope of ever finding the recipe you are looking for?
If you are lucky enough to stumble upon a new collection of recipes you probably have been quickly disappointed to learn that a majority of them are the same as you already have and now you dozens of printed pages with only one or two actually unique recipes.
"I am a new ceramics teacher and have just started playing with Raku and the kids are loving it! I was searching the net for more recipes and came across your [book], which by the way has been a great resource." - Scott S.
"The glazes look wonderful...and thank you for putting recipes out there for others to try. " - Leanne S.
If you are new to Raku, you may not even know what the numbers in the recipe mean, or if the chemicals should be measured by weight or by volume, which could seriously affect a glaze.
"I was thrilled to find your website and plan to test several of your glaze recipes" - Deanne B.
"I must thank you for all the great recipes. I was a bit stuck for new recipes. I'll be here for thirty years trying all these out." - Simon D.
How many times have you come across a glaze recipe with strange or unknown chemicals and no explanation of possible substitutions?
"I was pleased to find all those glazes. I have been Raku-ing full time since." - Leland H.
"I'm just starting to do Raku and I really enjoy all the glaze recipes." - Loretta V.
A lot of glazes are known by different names or the same name is used to describe completely different glazes, so unless you have taken the time and effort to compile all these recipes into one collection, you won't know what recipes you have collected.
"I have used a lot of your recipes with great success! Thanks for sharing your recipes. Many Raku artists I have met have been resistant to share recipes. " - Helena A.
You could collect all these recipes from all these different sources and you would have tons of duplication and overlap and then never be sure when, or if, any of these individual collections are updated.
"I am a potter and instructor of clay classes at a local art center. I'm always looking for recipes. Thanks for sharing yours!" - Mary H.
So what you want is a single, concise, collection of as many known Raku recipes as possible that is compiled and updated on a regular basis along with basic instruction on how to mix glazes, chemical substitutions, and and a simple overview of what colorants can do in a glaze for your own experimentation.
"What a Gold Mine!" - Meredith M.