500 Bowls: Contemporary Exploration of a Timeless Design
Edited: Suzanne Tourtillott
Order 30% off at: http://tinyurl.com/8jc7
Bowls, bowls, bowls, and more bowls - 500 of them to be exact. Just when you thought you had seen every possible form of bowl, you turn the page and there is another shape, texture, color, or technique. This book is quite a collection of "eye candy" for the potter and should give you a wealth of material to spark your creative juices.
There are a few examples of Raku bowls sprinkled throughout the book. There are a couple examples of horsehair Raku shown on pages 41 and 244. There are several examples of combining Raku with different resist techniques. Peggy Peak has two plate/bowls (p.136 & p.226) that include the use of resist to create animal shapes. The bowl by Lisa Davis on page 163 shows the use of wax resist to create a pattern around the walls of a bowl. Another of her bowls on p. 195 details leaving more of the piece unglazed than glazed to produce a nice effect as well. There are various other examples on pages 57, 65, 137, 194, 200, 209, 227, and 319.
Some of the artists include a small statement about the work or the technique involved, but primarily the book is a "walk through a museum" with examples of all kinds of work. Many of the pieces, I feel, would work well with Raku.
Books
Learn Dozens of Hints, Tips and Techniques in the free monthly newsletter
Just Raku
Just enter the primary email address below and click subscribe
Privacy Policy - Your email address or other personal information will only be used for this newsletter. It will never be given, rented, or sold to any other party for any other purposed.


Raku Secrets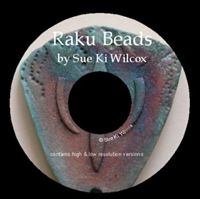 Raku Beads