What are some good glazes to start with?
There are a couple suggestions for what Raku glazes to start with. First, several clay companies provide premixed powder glazes that just have to be mixed with water to be used. This is definitely easier than purchasing all the individual materials and mixed them yourself. I have used several Laguna glazes and some of my favorites are (Dynasty Blue, Tutti Fruiti, and Raku Burst).
The second thing to consider is the type of glaze. Copper matte glazes, while very exciting when they turn out, are quite a challenge to achieve consistently in many cases. You may want to consider other, more reliable or forgiving glazes. Glossy white (Clear Crackle), blue (Blue Crackle), or green glazes (Gary's Green Crackle) typically have good results and provide an interesting crackle pattern with some flashing.
Books
Learn Dozens of Hints, Tips and Techniques in the free monthly newsletter
Just Raku
Just enter the primary email address below and click subscribe
Privacy Policy - Your email address or other personal information will only be used for this newsletter. It will never be given, rented, or sold to any other party for any other purposed.


Raku Secrets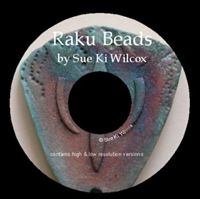 Raku Beads